The following happened to our Editor-In-Chief a couple years ago. The memory still brings shudders!
He had just boarded a plane for the final leg of his trip, and settled in his seat with a book about history, ready to be transported back in time.
All Of A Sudden, He Felt Like He Was Going To Hurl!
Having been raised in the country, he knows what road kill smells like.
The guy sitting next to him – his seatmate by someone else's choice – had taken out his "dinner".  It was this unholy combination of salami and (we guess) Swiss cheese, all in plastic bags, that obviously hadn't been refrigerated since at least the day before.
Plus a very "un-organic" apple.
To make matters worse, the seatmate was one of those "noisy" eaters – you know, the kind who somehow can crunch Gummi Bears.
He Hoped He Wouldn't Have To Chat With His Seatmate…
Our Editor-In-Chief, being a pleasant man, didn't want to seem impolite, therefore he made a gentle but nonetheless clearly "marked" show of taking out his music player and putting the earphones in.
He tried to nonverbally send a clear, non-confrontational message that his seatmate better not try to speak to him with that sickening food of his….
…But The Seatmate Tried To Strike Up Conversation Anyway!
He even tapped our Editor-In-Chief on the shoulder to get his attention. AAAGGHHH!
This person's breath was as blech as one would expect it to be, so our EIC had to end this, FAST.
The seatmate even talked with food in his mouth – so now there's a major Misophonia issue, too.
In case you're not sure what Misophonia is: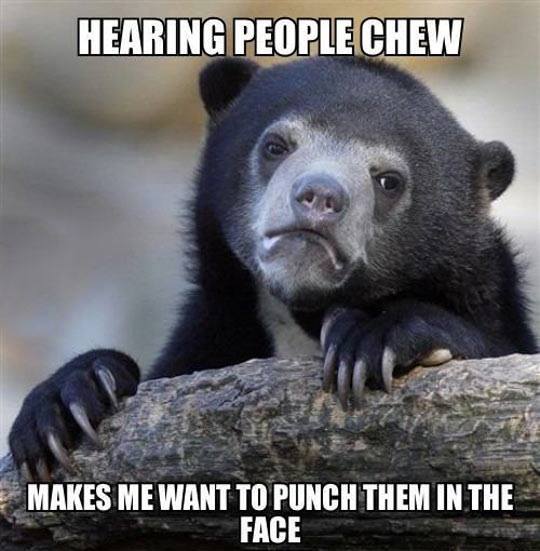 The seatmate started asking "n00b" questions about smartphones as he proudly held up his little non-smart flip phone – anything to make conversation (and make this worse).
Our EIC gave clipped, one-word responses to each question, asked no follow-up questions, and let things go silent each time to send a hint that there was no conversation to be had. He made no eye contact and didn't look up from his book, even though his seatmate turned his whole body to face him.
Soon enough, the seatmate got the message and directed his nasty breath elsewhere.
You Can Call Our Editor-In-Chief "Rude" And "Impolite" If You Want…
Our Editor-In-Chief wasn't subjecting his seatmate to nausea with *his* half-spoiled, disgusting slimy deli food.
So there.
In fact, he was taking every measure he could to spare the seatmate the embarrassment of being told in public that his food (and by extension, he) was disgusting.
Now Check Out Your Surroundings And Think About This
Let's make sure you aren't the "annoying seatmate". Check in with yourself on:
If Your Audience Were Your Airplane Seatmates, Would They Want You Around Them?
Make sure that's a "HELL YES".
You'll enjoy life more.