Many of the Vegans we speak with at The Morning Adam™ actually would prefer not to discuss their choices at all – they just want to have a good meal with friends.
Case in point – just this past Sunday, our Editor-in-Chief, who is one of those Vegan types, attended a VIP dinner at a steakhouse at the invitation of a good friend of his. He was relieved that the only conversation he had about Veganism was getting a menu recommendation from another Vegan in the room who had eaten at that steakhouse before.
Therefore, we hold the following to be a fallacy: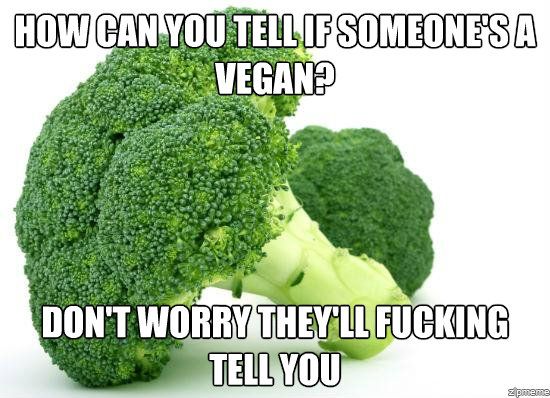 What happens more often, is the Vegan will arrange to be the last one to place their order, so they're not holding everyone else up while asking the server what options are suitable for Vegans, or repeating for clarity that their salad should contain no cheese, meat, seafood, or dairy-based dressing.
It's the other people at the table who start with the questions:
"Are you, like, Vegan or something?"
"What made you decide to go Vegan?"
"Where do you get your protein?"
"So you're vegetarian. Does that mean you eat chicken and fish?" (not only is that an incorrect description of a vegetarian, but there are several big differences between Vegans and Vegetarians)
"Oh goodness, had we known you're Vegan, we wouldn't have come here." (translation: "…we wouldn't have invited you.")
Sometimes it takes a more sinister turn:
"Are you still doing that Vegan thing?"
"You are allowed to have turkey once in a while. There's no law against it. It's Thanksgiving for crying out loud. Just for one day, can you go along with what everyone else is doing?"
"Oh come on, have some bacon. Live a little. You can't spend your whole life suffering and denying yourself."
"Do you take into account how hard it is for people who eat normally to accommodate your demands?"
"Veganism is against God's will. In the Bible, it says God gave us animals for our use in sustaining ourselves. There's a food chain for a reason."
And so on and so forth.
Vegans sometimes find it necessary to hide or deflect with lines like:
"I'm lactose intolerant / gluten intolerant / something intolerant." (ironic this is used to deflect others' intolerance)
"My doctor has me on a special diet because my bloodwork was way off."
"My buddy's getting married, I'm the best man so I'm trying to fit into the tux."
The bigger question we have is:
Why Does It Matter So Much To Other People?
Just like the barbs and questions Windows users get from those who feel everyone should use a Mac…
…the key phrase is "other people".
All will be revealed next time.
For now we'll leave you with this, which will illustrate our point (RIP Gene Wilder):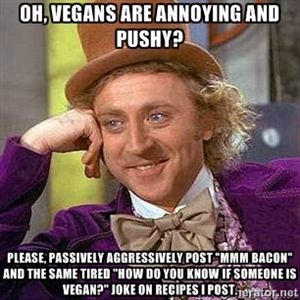 And this: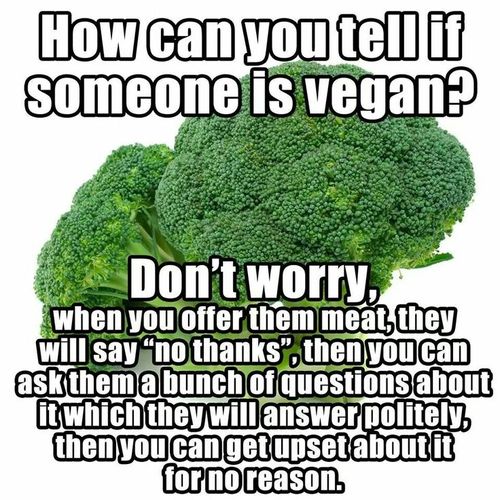 But Vegans do have a sense of humor: