Last week, my folks came to visit here in Las Vegas.
Haven't seen them in 3 and a half years.
Had a great time.
The office assistants got to meet their Grandmeow and Grandpaw.
Small problem:
The Moment My Parents Saw Me Last Week, They Gasped In Horror And Freaked Out!
Backstory:
Those of you who have known me for a long time, may remember that back in 2012 and 2013, I literally ran a 5k every single day.
Every. Single. Day.
Five kilometers.
7 days per week.
I looked good and felt good.
Then, after the move to Las Vegas, some things changed and… let's just say "sedentary lifestyle."
That's right:
In Just 4 Years, By Doing Nothing, I Went From Running Seven 5ks Per Week, To Not Being Able To (Attempt To) Cross My Legs Without Exhausting Myself.
The last time my parents saw me, I was still capable of running a 5K.
Here's the before-and-after (or should I say, the "after and before") – as you can see, the "Tell Everyone You're Vegan Because It Will Inspire Others" Club suspended my membership a while ago: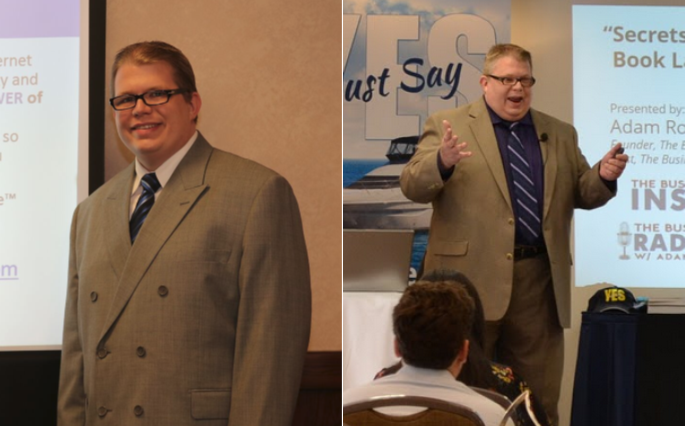 When you're too sedentary for too long, even if you keep up good eating habits and live a clean lifestyle, things freeze up.
Imagine turning the key to do a "cold-start" on a car that's sat out in the yard for the past seven years, and you'll get the idea.
Sure, I belong to a gym that's located just a few blocks away.
Sure, I have an hour a day, and the gym is open 24/7/365.
Sure, I'm motivated to fix this.
The problem is that
Every Time I've Tried To Do My Workouts Or Run Even One Mile, I End Up Paying For It, Often Up To A Full Week.
It's like being in a vicious cycle.
Like it's Groundhog Day, over and over and over.
Every time I'd try to get started, though, I'd get so sore it would debilitate me for days on end.
I was stuck.
Damned if I did, damned if I didn't.
As much as I like my tailored suits, I don't want to keep getting them refitted or buy bigger ones.
I bit the bullet. That's right:
I Spent An Hour With A Personal Trainer, And Am Right Now Smacking Myself For Failing To Take My Own Medicine.
In just one hour, the trainer designed a two-part workout specifically geared toward breaking the atrophy of sedentary living.
He showed me this new aerobic machine I'd walked past 50 times without knowing its potential.
He showed me weight machines that have this new technology where you push a button to adjust the resistance – I didn't even know this existed, and yet I saw how this immediately solved the challenges of figuring out how many weights to put on the stack and where to insert the pin.
Just from doing this ONCE I feel like at least a small weight has been lifted from my shoulders.
He was the right person to ask.
And now I'm motivated to finish preparing for tomorrow's webinar so I can head on over and do the cardio workout.
There's A Business Point To This, By The Way
You know the thing about how you should occasionally do a session with a business coach, even if everything seems to be going well, because they may be able to show you things you hadn't thought of?
Or the thing about bringing in a business coach for 30-90 days to help you master one specific thing? (Shameless plug).
That's the point.
Here's what else you should know:
There's No Stopping Me On This, Because You Guys Are Now Involved!
I told you I'm doing it.
So if I fail, I have to explain it to you.
I don't want to explain failure.
So here we are.
Oh, and under the header of "pics, so it happened", here's the workout the trainer created. The writing is almost legible, so you know it's not my writing.
If you're feeling sedentary also, perhaps this will inspire you to seek your own advice from a trained professional to design something that can work for your own unique needs: