We can all learn from her.
Quoting Rieva Lesonsky on "What Every Entrepreneur Could Learn From Grumpy Cat":
At a much-hyped event this week that was ostensibly all about what's new in technology, startups and music, it was a cat that captured everyone's imagination. I'm talking, of course, about Grumpy Cat, the sullen-faced Siamese who emerged as the star of SXSW.

What accounts for Grumpy Cat's massive popularity? While social media played a role, with Reddit and Twitter helping turn the tiny feline into an Internet meme, the offline aspect of Grumpy Cat was just as important. People lined up for hours to pet, hold and get pictures taken with her, then talk (not just tweet) about it and proudly show their photos to others.

Humans are social animals, and if you want customers to be as passionate about your business as they are about memes, you've got to cater to both their online and offline sides. Engaging digitally isn't enough—what is your customer experience like in the real world? Is it exciting enough, funny enough, special enough or unique enough to make customers feel about your business the way they feel about Grumpy Cat?

(Source: Open Forum®)
Yes!
Two years ago, our Editor-In-Chief waited in line nearly half a day just to get a picture taken with a feline named Tardar Sauce, known around the world as Grumpy Cat: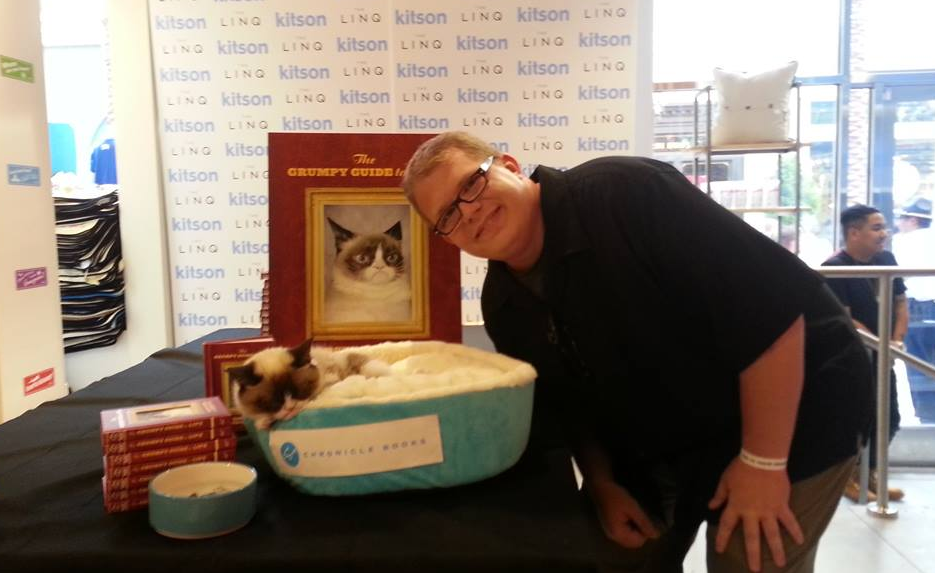 Small wonder why, when you ask yourself:
How Many Of The Following Have You Accomplished With
Your

Business And Brand?

In just four years, Grumpy Cat has:

Not bad.

Sure, her movie kind of sucked (we watched it and found it genuinely awful), but then again
What Kind Of Ratings Did YOUR Movie Get?
Oh, that's right.
Go ahead all you want and say she's just a cat.
To her, you're just a human who has a lot of catching up to do.
Get to work!