An astute observer who read our article about our friend's challenges buying a sleek, sporty convertible noted that said friend declined a cup of coffee with "a knowing twinkle in his eye and wry grin" when entering the finance office…
…then "changed his mind" and requested a cup once the dealership accepted his check.
Good catch.
We Can Learn Much From Automobile Sales Professionals On The Subject Of Reciprocity.
Many car sales professionals are taught the very first thing to do when bringing you, as a prospect, into the showroom is offer you a cup of coffee.
Conversely, many books, articles, and training courses for consumers on how to buy a car or how to get a great deal on a car tell you, never, ever accept the cup of coffee from the salesperson.
This small cup of gnarly, stale coffee in the annoying cheap Styrofoam cup is no small matter.
Both sides know it. Our astute reader caught the two references to a cup of coffee and knew something was up.
This Stuff Is The Exact Kryptonite Feared By The Forces Of Sales Resistance
A few years ago, another friend of ours was at a car dealership to possibly lease a new car.  While our friend was waiting for the "trade in appraisal" of his current car, the salesperson brought over a bottle of Mountain Dew and two cups. "I can't finish this myself. Want to split it with me?"
Our friend said, "Sure. Thanks. But this doesn't mean I'm going to lease a car today."
The salesperson laughed… knowingly.
Our friend did lease a car from him that day.
Coffee IS For Closers…Who Will Offer A Cup If They Expect To Convert A Sale
That sounds a little out of balance, you think?
The salesperson gives you coffee, and now you owe them a signature on the line that is dotted?
Yep – that's pretty much how it works.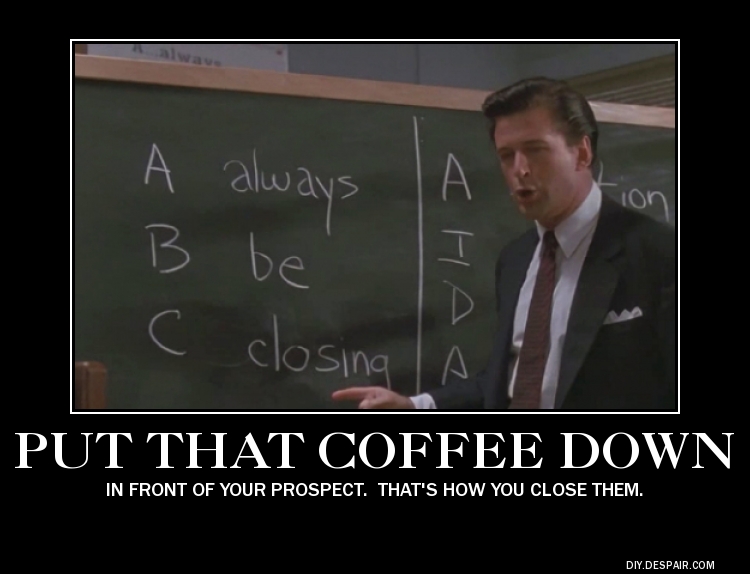 This kind salesperson went out of their way (almost 12 feet) to pour you that tiny little (Styrofoam) cup of (stale) coffee.
You have to remember: this salesperson has a family, bills to pay, and quotas to meet if they want to keep their job.
Now that they offered you a cup of coffee and you said yes, they've micro-converted you.
Just a few more yes-es and it's a done deal.
So Fire Up The Coffee Maker And Line Up The Coffee Mugs
Your sales conversions create more reasons for them to know, like, and trust you.
This is especially critical if you provide a service.
The more you show your best prospects that you know more about what you do than anyone else in the world, the more likely they are to hire you – and pay top dollar out of confidence you'll do a great job.
Now would be the time to plan your next teleseminar or webinar; to break out your camera or Camtasia and post some fresh top-notch content on YouTube; to give your BEST stuff on your next podcast interview.